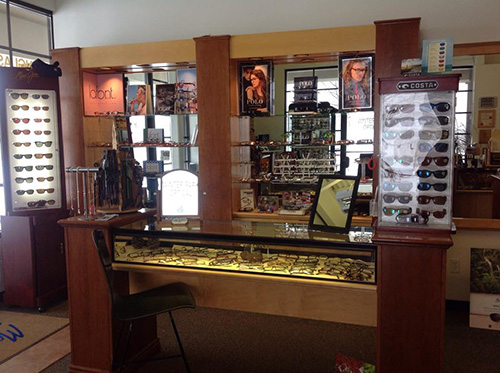 Winter Park Optical is here to serve you and your vision needs, whatever they may be. As your trusted clinic in Fraser, CO, we make your comfort and vision a priority above all else, providing our customers with unparalleled service and personalized attention. Just look at some of the ways we're helping our local community members each and every day:
Eyeglass repair: Accidently sat on your eyeglasses? Dealing with a cracked pair of frames that simply won't stay in place? No problem! We're your local, trusted experts for eyeglass repair in Fraser, Tabernash, Grandby, Grand County, and Nederland, CO. We provide soldering, nose pad and screw replacements on most frames. We also offer frame alignments and expert adjustments for you to be able to see perfectly and comfortably.
Eye exams: If your vision isn't what it used to be, we can help determine to what degree you may need eyeglasses or contacts. Our comprehensive eye exams determine visual acuity, measure vision loss, check for glaucoma and work to ensure your eye health is always where it needs to be. We also offer dilation to examine the internal health of your eyes.
LASIK with co-management: Though we do not perform LASIK corrective procedures, we do help you with the follow-up management. We do the pre-op and post-op procedures to make sure your eyes are healing appropriately and that your vision is verifiably improved! If you're looking for a trusted LASIK provider, we have references available.
While we take pride in offering all of the above services, our specialty is helping you find the right eyewear for your vision needs and style. Our personalized approach means you're going to get eyeglasses that are optimal for your vision, with frames that fit your face, style preferences and personality! We invite you to stop by today to see what we have to offer you.
We are authorized dealers for Maui Jim, Rayban, Costa, Oakley, Smith, and Zeal and are able to offer these brands with prescription lenses.
We also offer same-day prescription optical goggle inserts for ski masks!
Eyewear brands and products
With more than 600 different frame styles to choose from—including designer eyewear, sports frames and more—we're your premier destination for eyeglasses, goggle inserts, and sunglasses, as well as contact lenses. Some of our most popular brands include:
Sunglasses
Ray Ban
Oakley
Maui Jim
Smith
Zeal
Polo
Ted Baker
SD Eyes
Liberty Sport
Legre
Bellagio
Lafont
Disney
Red Bull Racing
Pro Design
Lamb and Gx by Gwen Stefani
Coach
Titanflex
John Vervatos
Contacts
Titenflex
Contact lenses
Acuvue
Biofinity
Biotrue
Air Optix
For more information about any of the brand-name eyewear we sell or to inquire about the best option for your eyes when it comes to glasses and contact lenses, please visit us today. Contact us to schedule your eyeglass repair appointment or exam by calling 970-726-5652.